My unusual business philosophy:
I don't want to make a business out of sharing wisdom and kindness
When I met my mentor, Timothy Conway, he greeted me with an open heart, not an open hand.
I am inspired to follow his lead. So ...
All interaction with me is offered on a donation-only basis with a suggested donation amount of zero. You see, if I suggest a higher amount, well, someone might feel bad if they cannot comfortably met that amount and decide not to get in touch with me at all. Or if they do get in touch, they might feel that they are somehow inadequate for not contributing at the "proper" level or that I will look down on them for not donating enough. I certainly wouldn't do that and I don't want there to be any chance that someone might think that way. Hence the suggested amount of zero.
I want people who are truly matched to this teaching to contact me regardless of their financial status.
~ ~ ~ ~ * ~ ~ ~ ~
The heart of my work will always be available to everyone directly from my website for free. In other words, the essays that you find here are not "teaser essays" since they cover all of the most important ideas found in my book and if you read them carefully, you will not need to buy my book. But of course, if you want a more detailed presentation, the book will serve you well.
Most of the ideas I discuss actually go back thousands of years and yet I hope that my fresh presentation will provide you with new insights and perhaps even lead to significant spiritual awakenings. More about that here: The Seven Key Spiritual Awakenings.
I know that my work is not for everyone – that is very clear to me. So I want to make it easy for you to find out if it is a good match for you. And if it is a match, I want you to be able to quickly and easily connect with me.
We all know the conventional business model: create something that you can exchange for something else that you value even more. If both parties are able to do this, the business will be viable. In other words, there is always the giving of something in order to receive something else in return.
In many ways, this makes perfect sense. And yet, if possible, I like to go even further. On his 1976 album, Songs in the Key of Life, Stevie Wonder sings, "True love asks for nothing. Her acceptance is the way we pay." I like this idea. In general, what does love in action look like? What does it feel like? I think that love is helping people without looking for a return. Love has a magical quality that ensures that you do not have less love when you give love away. In truth, we are really only sharing the One Infinite Love of God.
Now, when it comes to money, I like to say:
"Don't make money your god; make God your money!"
In other words, don't worry about having enough money to take care of your needs. Money doesn't take care of you, God takes care of you. Realize that you always have God taking care of you in a way that will benefit you the most. Do what you are most inspired to do, with kindness for all. Be courageous. Be at peace with the present and engage in life without fear of the future. Know that you will be fully supported in everything that you do. And of course I am not just talking about financial support, but support in every way.
If someone simply visits my website, I still have everything that I had before and yet they now have more than they had before - the miracle of creation unfolding right before our eyes! If they like it and benefit from it, that's even better. If it significantly improves their life, well, now we really have something, don't we? This might even catch on quickly and spread all around the world, right? Well, that's the idea and it will be interesting to see what happens.
As you may have noticed, my work focuses on personal and world peace. I simply cannot imagine impeding this by imposing a fee for special information. Ridiculous. And yet I still have to pay rent and buy food, right? That is why I have opened up a path for money to flow into my life via the sale of my books and the reception of donations.
So if you are inspired, I invite you to explore my website and savor the nuggets that you dig up. I hope that this will help you find a deeper peace within yourself and that this peace will spread outward into the world. All of us will eventually find our own peace in our own way. This is truly done through the grace of God - the One who is arising as everyOne and the One who is doing everything.
Here are my book and donation links:
My book is at Amazon
Third Edition, March 2023
Thanks for considering my work. In truth, I honor your divine nature.
All my best to you, Thomas Razzeto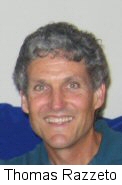 ---